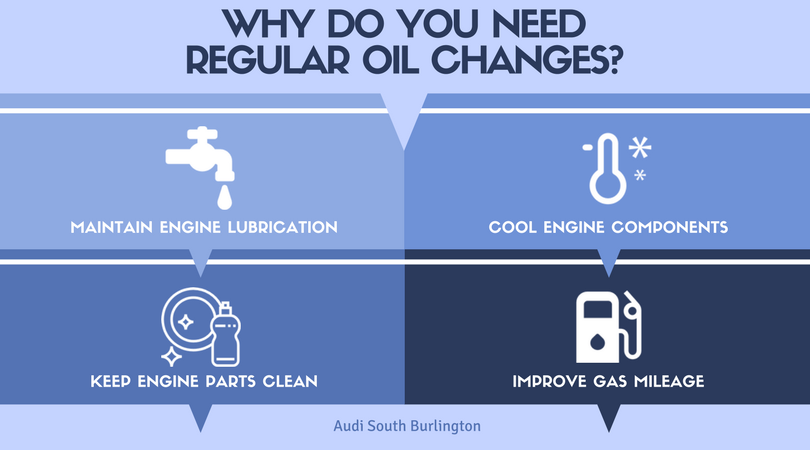 Why Do You Need Regular Oil Changes?
Bringing your vehicle in for regular oil changes might seem like a hassle, but it couldn't be more important! Engines from all makes and models are made of many individual moving parts, all of which need to be properly lubricated in order to function smoothly. This is the role oil plays in your engine, but over time pollutants and debris can build up and oil breaks down, hindering its ability to work properly.
A best case scenario to driving with dirty oil is lower fuel efficiency; the worst case is irreversible wear to the moving parts that could cost thousands to repair! If that's not enough to convince you, let's break down the benefits a little more
---

    Pistons and valves, gears and chains! Engines are comprised of numerous parts moving at extreme speeds. A proper amount of clean oil allows these parts to move smoothly and prevents damage through wear.

Wear and tear isn't the only threat to your engine. Without proper lubrication, all those moving parts means friction. And friction means heat. A sufficient amount of clean oil can help keep your engine from over-heating. 

Both synthetic and contentional oil will break down over time, which will create a "sludge". Dirt particles and other debris can also build up in your oil. Dirty oil doesn't provide proper lubrication, which leads to the problems we mentioned above!

All that sludge and dirty oil doesn't provide proper lubrication so it can take your engine a lot more energy to function. This can lead to increase fuel consumption! The cleaner your oil, the more efficient your engine.
---
Perhaps you're convinced about the necessity and value of regular oil changes, but still think it's a hassle to bring your vehicle in? Audi South Burlington offers a complimentary shuttle service, so you don't have to miss important errands while waiting for your vehicle! For longer service appointments we also offer loaner Audis!
Rather wait? We have a comfortable waiting area, complete with free WiFi and delicious coffee and snacks! 
We even have Saturday service hours so you can be sure to fit proper maintenance into your busy schedule.
Our trained service professionals have the skills and technology to properly change your vehicle's oil, as well as diagnose and repait any other problem you may have. They'll even give your vehicle a complimentary multi-point inspection, just to double check everything!
Have I convinced you yet? 
If you still have questions, or want to schedule your next appointment, give our Service department a call at 888-903-1452
*Written by Grace Tomczak, Digital Marketing Specialist for Audi South Burlington 
Sources: Meineke
Read Past Entries of the Audi Report Here